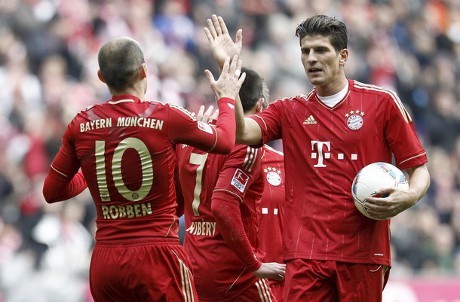 Bayern Munich at the Allianz Arena rampage when host Hoffenheim. Bayern won 7-1 with Mario Gomez contributed three goals.
After last week arrested Bayer Leverkusen 0-2, Bayern immediately got up at 25 this week with the coming visit devastated Hoffenheim on Saturday (10/03/2012).
Gomez immediately making Bayern the lead through his goal after just four minutes walk. Seven minutes later Bayern's Philipp Lahm to get a penalty after being violated. Execute and forward Arjen Robben made the score finished 2-0.
The position changed again on 17 minutes after kick Toni Kroos who received the ball from Franck Ribery, break down the visitors' goal.
Ribery back to the designer after the bait breakthrough goal on 29 minutes successfully maximized Robben into goals.
Five minutes later, Gomez's turn to make his second goal. Ribery was again instrumental, this time with the shipment crossing to Gomez.
Three minutes into the second half of the game, Gomez scored a hat-trick. From the corner, Robben managed to feed the ball into the goal Gomez headlong Hoffenheim.
At 58 minutes, turn Ribery listed his name on the scoreboard. Of fast attack, the ball sent Robben to Ribery who did not waste the opportunity.
Six minutes before the break, Hoffenheim getting a consolation goal after Luis Gustavo Dias scored an own goal.
These results confirmed the position put Bayern in second place standings with 51 points from 25 games, behind four of the top standings engka Borussia Dortmund who have not played a party for her 25th.
On the other parties, Borussia Monchengladbach Bayern failed to hold down after only a balanced opponent Freiburg 0-0. The results make it budge Monchengladbach in third position with 48 points.
Teams:
Bayern Munich: Neuer - Lahm, Boateng (Tymoshchuk 46), Badstuber, Alaba - Luiz Gustavo, Kroos - Robben, Mueller (Schweinsteiger 62), Ribery - Gomez (Olic 57)
Hoffenheim: Starke - Williams, Vestergaard, Compper, Braafheid - Vorsah - Vukcevic (Kaiser 87), Weis (Mlapa 87), Rudy, Roberto Firmino (Wieser 62) - Babylon