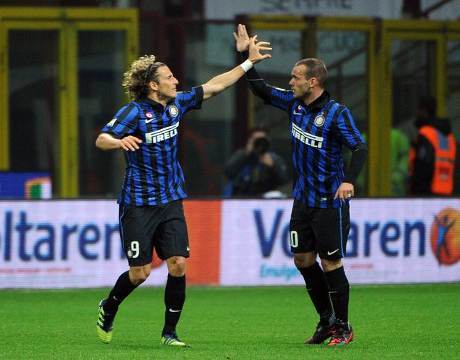 Inter Milan finally end the streak of five matches in Serie A after their match Catania. Coming from behind two goals in the first, forcing Il Nerazzurri Elefanti 2-2 draw.
In the action at the Giuseppe Meazza on Sunday (03/04/2012), behind Inter's first two goals in the first round. Alejandro Gomez and Mariano Izco score Catania goals.
In the second half and then Inter equalized through Diego Forlan and Diego Milito. These two goals ending the fasting goals in six games before or nearly reached 540 minutes.
The draw was made Inter held at No. 7 with 37 points from 27 matches. While Catania at number 10 with 33 points.
The game
In the 15th minute Inter earn the first leg through Diego Forlan. Diego Milito got the crossing, Forlan kick left foot volley and the ball was tipped by Juan Pablo Carrizo.
Five minutes later Catania actually capable of winning first, after the Gomez who escaped the offside trap after receiving a distant colleagues.
He then cut into the penalty box and outwit Nagatomo before kick curled into the goalkeeper Julio Cesar.
Increasingly become a disaster for Inter in the 38th minute after Catania doubled the score finished 2-0. Giovanni Marchese who escaped the offside trap to easily conquer Yuto Nagatomo Izco before feeding to the free-standing in front of goal. Izco easily cheat the ball into the net.
In the second half Inter game nevertheless not develop even after entering Wesley Sneijder though. Catania game even more organized and often dangerous goalkeeper Cesar.
In the 55th minute when Cesar did kesalahn sweep the ball and leads to Gomez. He was later to lob the ball towards goal but still not meet the target.
Marco Motta in the 59th minute through a header in front of goal but the ball was wide of the target.
Forlan! In 71 minutes Inter finally able to score his first goal in the last six games in all competitions as well as cut dropping to 1-2. Forlan who got the ball at the far post two players pass through Catania.
Uruguay striker then fired a hard left foot into the goal. The ball can still be ignored, but eventually goes into the net Carrizo.
On 80 minutes Inter were finally able to equalize. Forlan gets the ball in front of the box and then handed it to Milito on the right side.
Once the Argentina striker touched the ball and fired it hard into the top right corner and Carrizo could not confronting.
Inter goalkeeper on 84 minutes nearly collapse after Seymour had a golden opportunity in front of goal. But unfortunately his shot was weak and could be arrested Cesar.
Pazzini! Got the ball in front of goal, kicking the Italian striker is still stuck in the 90th minute Carrizo feet.
2-2 score lasted until the game was over and the Inter had ended a five game losing streak in Serie A.
The lineup
Inter: Julio Cesar; Nagatomo, Lucio, Samuel, Zanetti; Faraoni (Sneijder 45 '), Palombo (Obi 60'), Cambiasso (Poly 60 '), Forlan; Milito, Pazzini
Catania: Carrizo; Motta, Legrottaglie, Spolli, Marchese; Izco, Lodi, Almiron; Gomez (Llama 87 '), Bergessio (Ebagua 69'), Barrientos (Seymour 76 ')