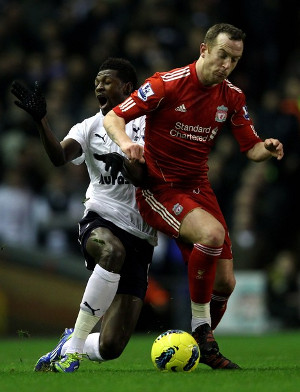 Liverpool and Tottenham Hotspur have to be willing to share one point in the Premier League. They both could not score and ended the match with a 0-0 draw.
In a match at Anfield on Monday (06/02/2012), relying on a trio of Dirk Kuyt Liverpool, Andy Carroll, and Craig Bellamy up front. Meanwhile, the Spurs appeared without Aaron Lennon, Rafael van der Vaart, and manager Harry Redknapp.
In the first half, both teams look carefully enough and did not create many chances. Until halftime, the score is still glasses.
Luis Suarez entered in the second half to increase the power on for the home team. However, the presence of Uruguay striker was also unable to break the deadlock until the long whistle sounded.
A draw is not changing the position of the two teams in the standings. Liverpool is ranked seventh with 39 points from 24 matches, while the Spurs in third place with 50 points.
The game
The home team had a penalty claim in the fifth minute when Andy Carroll Michael Dawson was dropped. However, referee Michael Oliver did not grant it.
The first clear chance came in the minute-32 for the Spurs. However, Niko Kranjcar kick from outside the box can be secured easily by Pepe Reina.
A minute later, Liverpool almost shot lead through Jay Spearing. Bad luck for Spearing, the ball is still thin.
The home team get the opportunity again in the final minutes of the first half. But, kick Glen Johnson could still be blocked by Brad Friedel with his legs.
Until halftime, the score still 0-0.
At the 59th minute, Martin Kelly tested Friedel with a shot distance away. Friedel readily anticipate the arrival of the ball and dropping it off yourself.
Friedel re-secure the goal of the invasion of the hosts in the 67th minute. This time, he caught the ball with a deft header from a corner of Carroll result.
Five minutes later, Spurs spread threats through the action of Gareth Bale. However, Bale shot from outside the box was wide.
Carroll wasted the chance that he gets a few moments later. Mature getting feedback from Kelly, his shot from inside the penalty box even soar.
Entering the 85th minute, Spurs get the best opportunities. Bale, who escaped the offside trap faced with Reina, but the solution can still be defeated by the Spanish goalkeeper.
Two minutes later, Suarez effort also was fruitless. His header from close range was not too difficult for Friedel.
Until the end of the game, no goals are created.

Team Line-up:
Liverpool: Reina, Johnson, Kelly, Agger, Skrtel, Spearing, Kuyt (Suarez 66 '), Gerrard, Adam, Carroll, Bellamy (Downing 73')
Tottenham: Friedel; Walker, Dawson, King, Assou-Ekotto; Livermore, Parker; Kranjcar (Rose 88 '), Modric, Bale; Adebayor (Saha 71')