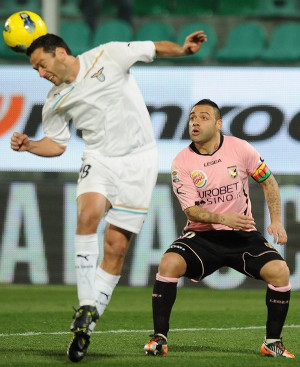 Udinese move Lazio from third place standings. Because, when Biancoceleste got beat Palermo 1-5, Zebrette grabbed a 0-0 draw Cagliari cons.
Palermo at the Renzo Barbera entertained on Sunday (2/19/2012), Lazio are behind by three goals at halftime. Goals host Edgar Barreto scored by the 10th minute, ten minutes later Massimo Donati, and Matias Silvestre three minutes before halftime.
Who continue to attack the host can add two more goals in the second half. Two additional goals scored by Igor Budan Palermo in the 47th minute and four minutes later Fabrizio Miccoli.
The only consolation goal scored by substitute Lazio Libor Kozak in the 85th minute.
With this defeat, scoring 42 points Lazio stuck. Although this number is equal to that of Udinese, they have to go down the strip because of goal difference.
For Palermo, the additional three-point position is not mengbah Micolli et al. ranked eighth in the standings with a collection of 34 points.
At the same time at the Stadio Friuli, Udinese could only pick one point after a 0-0 draw at home to Cagliari.
Although able to create a three-shot 13 ​​of them on target, the host remains unable to break the visitors' goal is escorted by Michael Agazzi. As a result, a score of 0-0 glasses did not change until the whistle sounded ending the game.
Additional one point is enough to deliver Udinese to third place standings. While the addition of one digit Cagliari do not change their ratings at nine positions standings with 31 points.
Time lineup
Palermo: Viviano, Pisano, Silvestre, Mantovani, Balzaretti; Migliaccio, Donati, Barreto (Bertolo 72); Ilicic; Budan (Vazquez 63), Miccoli (Rocca 78)
Lazio: Marchetti, Zauri, Ledesma, Dias; Gonzalez, Hernanes (Scaloni 77), Matuzalem, Candreva, Lulic; Klose (Kozak 45), Alfaro (Mauri 66)