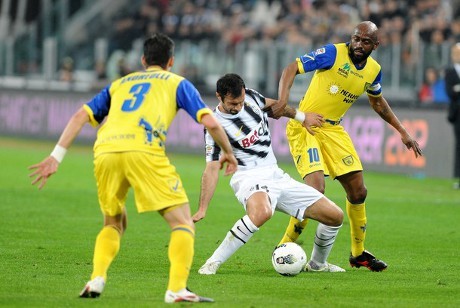 Juventus again failed to maximize the opportunity to play at home alone. Host Chievo Verona, La Vecchia Signora could only draw 1-1.
Compete at Juventus Stadium on Saturday (03/03/2012), Juve appear dominant in the first round. But, they can only lead one goal through a header from Paolo De Ceglie.
More exciting second-half run and strike out more boldly Chievo. Tireless efforts finally paid off for the visitors after Boukary Drame scored.
One further point to make Juve collected 51 points from 25 games and remained in second place standings Serie A. They are now three points from AC Milan, who had played 26 times. Chievo ranked ninth with 34 points from 26 parties.
The game
The visitors first threatened in the second minute. Starting from a cross Cyril Thereau, Paolo Sammarco's header can still be secured by Gianluigi Buffon.
Juve opened the scoring in the 18th minute. An Andrea Pirlo free-kick into the goal off because it hit the pole and had driven goalkeeper Stefano Sorrentino. But, De Ceglie came and grabbed the ball with his head. Entry.
At the 25th minute, Chievo again endanger the Juve goal when crossing Sammarco successfully forwarded by Francesco Acerbi in his head. However, the ball is still thin.
Juve hit back moments later through experiments performed by Mirko Vucinic. Bad luck for Vucinic, his shot from inside the box did not lead to the goal.
Juve almost doubled the lead in the 40th minute. However, Simone Padoin hard kick from outside the box 16 can still be pushed so hard by Sorrentino.
Juve opportunities in the final minutes of the first half also have a goal. Emanuele Giaccherini first time kick just outside the goal nets hit Cheivo.
Into the second half, the game more interesting. A long-distance free kick almost found the net Acerbi Juve, but Buffon was able to stop the ball.
A few minutes later, back Padoin waste the opportunity. Got shot open, the solution can still be driven by Sorrentino to the foot.
Davide Moscardelli get a good chance for Juve thrilling goal at minute 68 and 72. In the first shot was wide effort, while at the second attempt a header is still sideways.
Chievo hard work finally paid off in the 76th minute. A Drame hard kick left foot into the net after being turned away because of Leonardo Bonucci.
In injury time, Juve almost winning again. However, trials of Pirlo still be ignored by Sorrentino.

Time Line-up:
Juventus: Buffon; Lichtsteiner (Del Piero 78 '), Barzagli (Bonucci 41'), Chiellini, De Ceglie; Padoin, Pirlo, Marchisio (Caceres 72 '); Giaccherini, Matri, Vucinic
Chievo: Sorrentino; Sardo, Andreolli, Acerbi, Drame; Bradley, Rigoni, Luciano (Hetemaj 64 '); Thereau, Sammarco (Moscardelli 64'); Paloschi